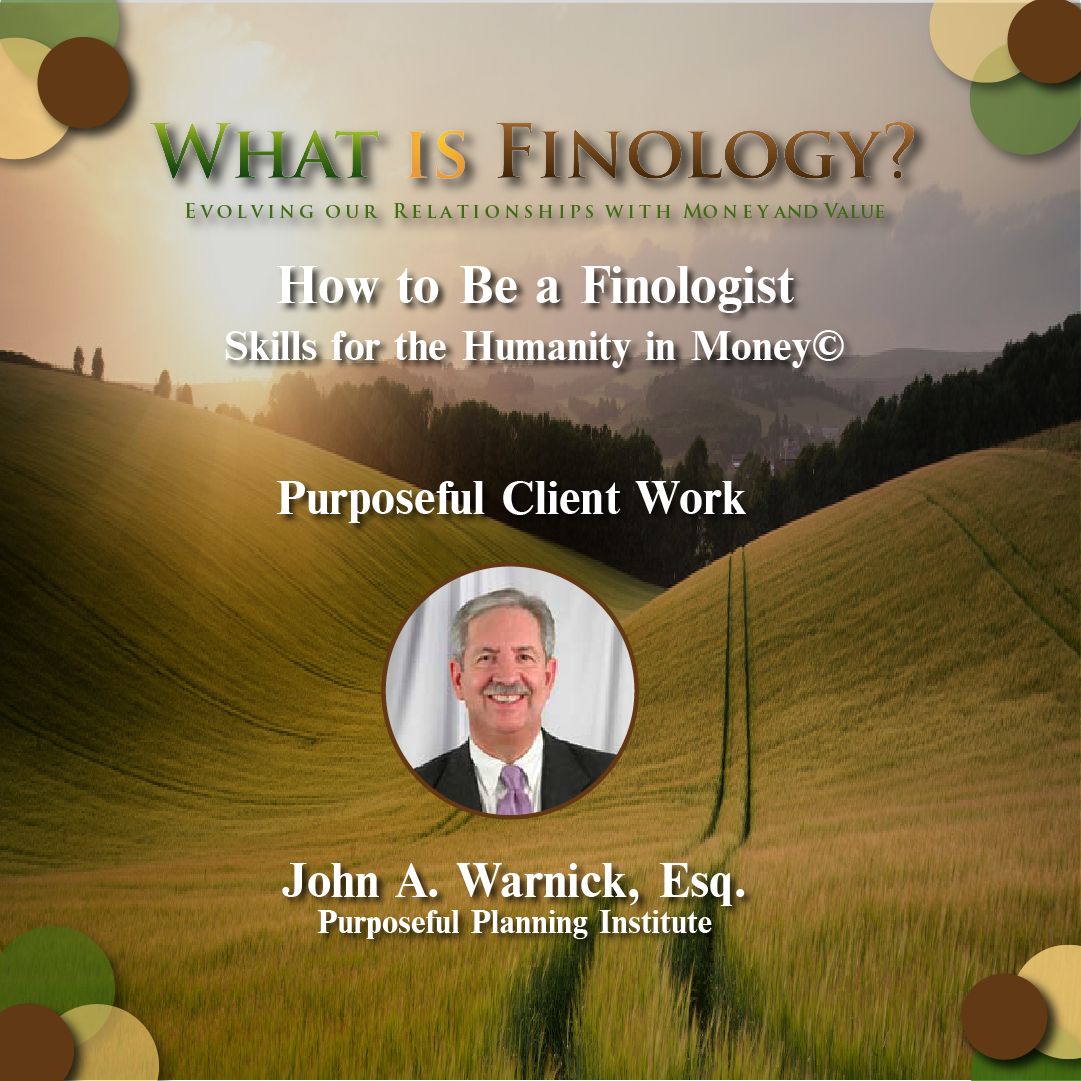 Purposeful Client work with John A. Warnick | How to be a Finologist Calls | Skills for the Humanity© in Money
Note: Starting at just $7/mo, become a What is Finology? member to join our How to Be a Finologist series for FREE! (Annual pricing options available). More info
What to Expect
"Economies are not machines and money contains the stuff of our souls…we must learn to talk about money with new language," ~Richard (Dick) Wagner, JD, CFP®, Father of Finology, Financial Planning 3.0, p. 234.
About our How to Be a Finologist virtual education series:
Our Purposeful Session will be an intimate experience, connecting you with meaningful professional development & deep thinking, deep hearted, like-minded peers.
We'll enter the space with one of Natalie's signature Money Breath Meditations, use storytelling and conversation to bring John A.'s work to life, and finish with both a 1:1 and group harvest. Our online space, Airmeet, allows for both intentional and spontaneous conversations, as well as one on one and group table discussions.
With the option to earn 1.5 CFP CE credits, we invite you to join John A. Warnick, Esq, Founder of the Purposeful Planning Institute, share his wisdom and insights in this Purposeful session designed for you to integrate Purposeful Client Work into your practice.
Inspiring quote ~
"…it is a tender attempt to accomplish something possible in this impossible thing we know as life" ~ The Book of Tea, Okakura Kakuzo
Click to learn about Richard (Dick) Wagner, and the What is Finology? Project.
1.5 CFP® CE Hours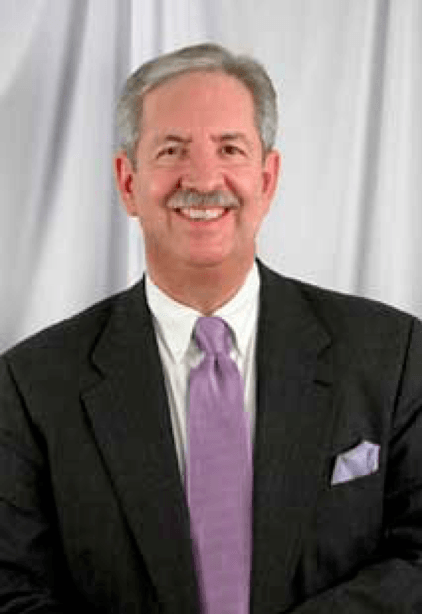 John A. Warnick, Esq.
Counselor and Attorney at Law, Founder of Purposeful Planning Institute
Purposeful Client Work
John A.'s work around Purpose has impacted many wealth professionals and bloomed into the Purposeful Planning Institute. The profound nature of intentionally bringing Purpose to Wealth Services integrates our human need for meaning into our clients' relationships with money, into all that their purposeful money touches, including their family, personal connections and aspirations. Join John A. as he discusses his unique insight and wisdom around Purposeful Client Work and its connection to Finology.
About John A. Warnick, Esq. 
I assist families in transferring much more than money to their heirs. I empower them to invest in their relational wealth and to discover the joy of a shared philanthropic journey with their family.
Join Us!
Join us October 20, 2022 at 2pm MT for our first new Education Series, What is Finology? | How to Be a Finologist | Skills for the Humanity in Money©!
Schedule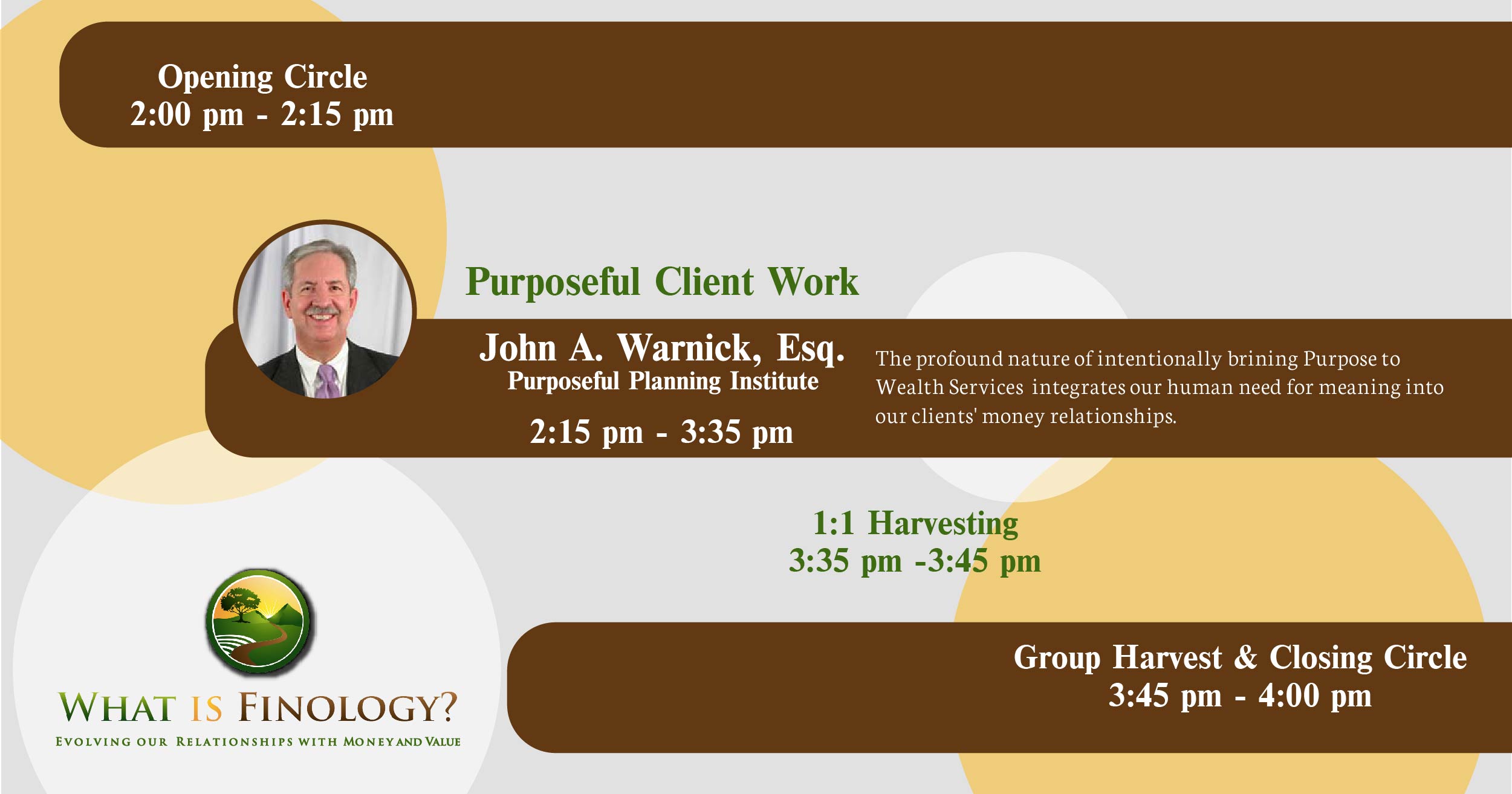 Note: There will be an optional happy hour from 4-5p MT to connect with fellow Finologists! 😊
About Finology
Finology (the study of our Human Connection with Money) is the legacy of the wisdom and insights of R. (Dick) Wagner. It is the foundation of new language revolutionizing how we understand and relate with money.
When someone says: "Here is $10,000,"  you would ask, "what is that for? What is being exchanged?  What expectations are placed on this money? Is it a job, or what else is going on?"
Does this amount of money make you uncomfortable to receive as a gift? What if that $10,000 meant the same thing to the giver as a $10 gift from you?  How might they treat you? How would you treat them? What dynamics are involved in the exchange?
We all know that $10,000 is ten thousand US dollars – a hard, quantifiable amount of value. But if we pull back another layer and put that same $10,000 into the context of real people, or family, or an individual person and their unique life, the story becomes intricate, unique, and profound.
The meaning of money lives within our relationship with it and with Value. It is the work of What is Finology? Project to Explore, Educate and Evolve this crucial space of our personal financial relationships. "Money can and should be used for Great Good," R. Wagner.
Money touches everything. Doing well with it is imperative.
How Financial Planners benefit by being part of the Finology conversation
Why do people hire a Financial Planner? "[A financial planner's] worth is in our wisdom and insights, including our own intimate understandings of money and its powers," (Richard Wagner, JD, CFP®, & founding father of Finology, Financial Planning 3.0, p. 30).
This educational platform of The What is Finology? project is all about Money and your Human Skills. When we strip money down to simply the numbers, we strip the humanity out of it! But that's not what it's like for our clients, or in real life. In reality, $10,000 means something different to you than it does to each of your clients than it does to me than it does to anyone else!
If someone is simply looking for the numbers, fine, there are lots of services for that. But if someone is coming to you, they're looking for more. They're looking for an understanding of value and meaning that goes beyond the numbers. They're looking to be seen as a person first and for their money to be viewed in this light.
Your abilities to serve clients in these ways are all about your Skills for the Humanity in Money©!
---
Note: The What is Finology? project and this education platform are inspired in part by the Nazrudin Project — its idiosyncratic nature, loving and sophisticated community, plus its agile and profound structure. The work we do and the experiences we have through Nazrudin reach the depths of participants, changing our way of Being — with money, clients, and life.
Our hopes are that What is Finology? project and the How to Be a Finologist education series extends and echoes the Nazrudin spirit, journey, depth of personal connection.
All sessions will be recorded and available for later listening.  Conversations in the Lounge will not be recorded.